Historical Warehouse Lofts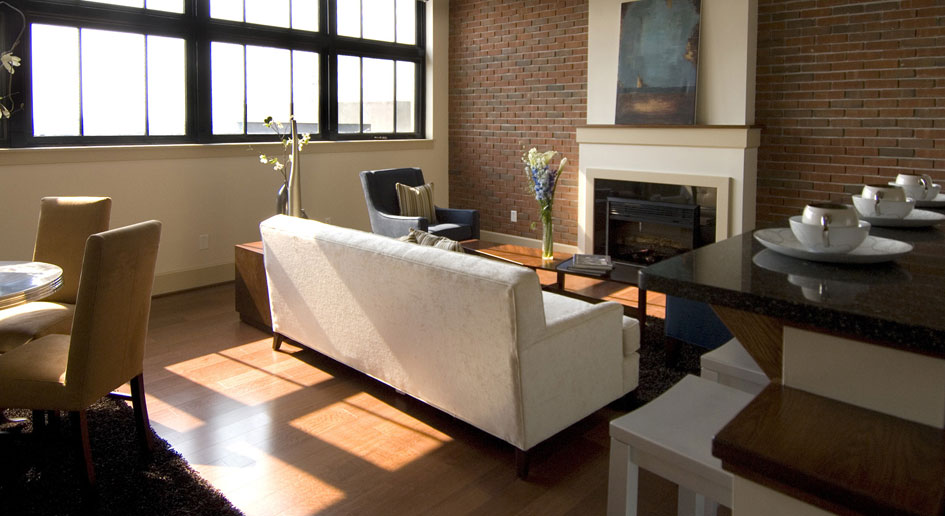 Downtown Buffalo has seen an exciting revitalization over the last decade, spurred, in part, by projects such as The Warehouse Lofts.
The historic building was constructed in 1913, and is one of the first concrete frame warehouses built in the United States. Designated a historic structure, this project converted the building into 30 upscale loft apartments and 8,000 square feet of office space. Utilizing historic tax credits, the project provides tenants with a range of modern amenities, including first floor parking.
As with many historic renovation projects, unforeseen conditions arose throughout the course of construction and innovative solutions were required to achieve a functioning product within budget.
Due to the unique architecture of the former industrial building, the original large picturesque windows were too high to be enjoyed by residential occupants, and historic guidelines prevented the altering of the window openings. Each floor was raised so that the occupants would be able to enjoy the fantastic views provided out of each of the building's seven floors. Resetarits Construction worked closely with Schneider Design and SHPO to overcome all obstacles, resulting in the timely completion of the project and a strict adherence to the budget.
Today, The Warehouse Lofts are enjoyed by a diverse group of tenants who appreciate the fine details of this high quality historic renovation project.
Resetarits Construction Corporation
1500 Union Road, Suite 100
West Seneca, New York 14224

EXPERIENCE
Our staff has experience working on some of the area's highest profile construction projects. Your project will be managed and constructed by some of the areas most experienced, skilled, and qualified construction professionals.

VALUE
We strive to reduce our clients' costs while providing the highest quality of service and construction. Implementing efficient design and construction methods while focusing on quality craftsmanship and economical solutions ensures we are able to provide a high value for our clients.

SERVICE
Our goal is to make every client a future reference, and to treat every client as if they were our only client. We commit to providing clients with construction services that will facilitate the success of their business.

RELATIONSHIPS
We have established strong relationships with many of our clients, providing them with construction services for a variety of projects over time. These lasting relationships are a testament to our experience, value, and service.