Town Homes at Shawnee Landing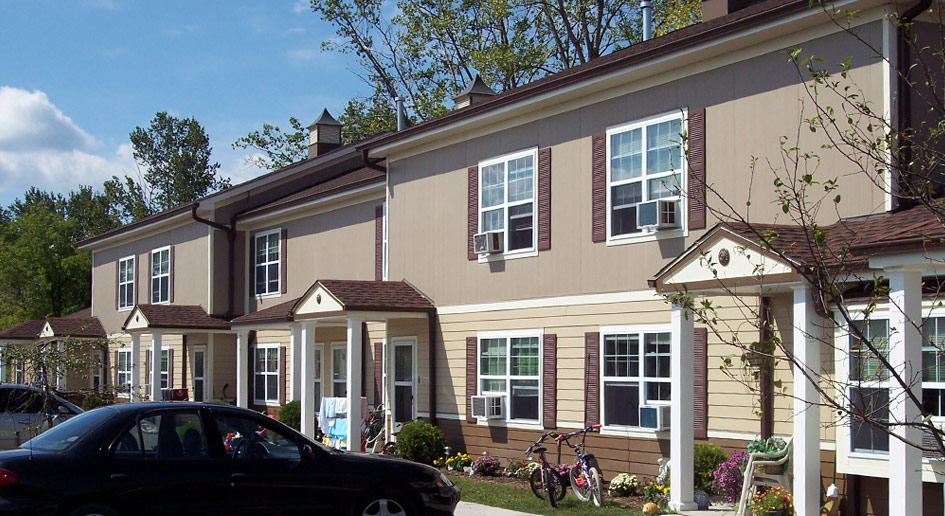 Resetarits Construction has a long standing relationship with Belmont Shelter Corporation, the majority stakeholder in the Townhomes at Shawnee Landing.
In the pre-development phase, Resetarits Construction provided extensive value engineering services to bring the $8M project to life and stay below budget. Working within the guidelines of the Department of Housing and Community Renewal (DHCR), Resetarits was able to reduce the project budget by over $1 million dollars.
Scheduling challenges occurred due to extenuating project delays. Resetarits Construction worked around project shut downs due to the political climate of the town, design delays, and subsequent funding issues. Through careful coordination, Resetarits Construction was able to keep the project moving to satisfy the Owner's funding and tax credit deadlines.
The facility sits on an 8-acre site in Wheatfield, NY. 64 two, three, and four bedroom income assisted townhouse units are arranged in a park like setting, circling the central community center. The 10,000 square foot community center includes a kitchen, a laundry facility and a public area.
Extensive site work was necessary to establish the proposed grade and meet wetlands requirements, prior to the commencement of any foundation work. Through careful value engineering, the budget allowed for the enhancement of the exterior of the units with Hardi Plank siding, board and batten and brick.
The purpose of this project was to provide quality housing serving income-qualified tenants. To achieve this, the Owner and manager, Belmont Shelter Corporation, utilized funding by New York State Division of Housing and Community Renewal (DHCR).
Resetarits Construction Corporation
1500 Union Road, Suite 100
West Seneca, New York 14224

EXPERIENCE
Our staff has experience working on some of the area's highest profile construction projects. Your project will be managed and constructed by some of the areas most experienced, skilled, and qualified construction professionals.

VALUE
We strive to reduce our clients' costs while providing the highest quality of service and construction. Implementing efficient design and construction methods while focusing on quality craftsmanship and economical solutions ensures we are able to provide a high value for our clients.

SERVICE
Our goal is to make every client a future reference, and to treat every client as if they were our only client. We commit to providing clients with construction services that will facilitate the success of their business.

RELATIONSHIPS
We have established strong relationships with many of our clients, providing them with construction services for a variety of projects over time. These lasting relationships are a testament to our experience, value, and service.