Zion Holdings – Buffalo Clinical Research Center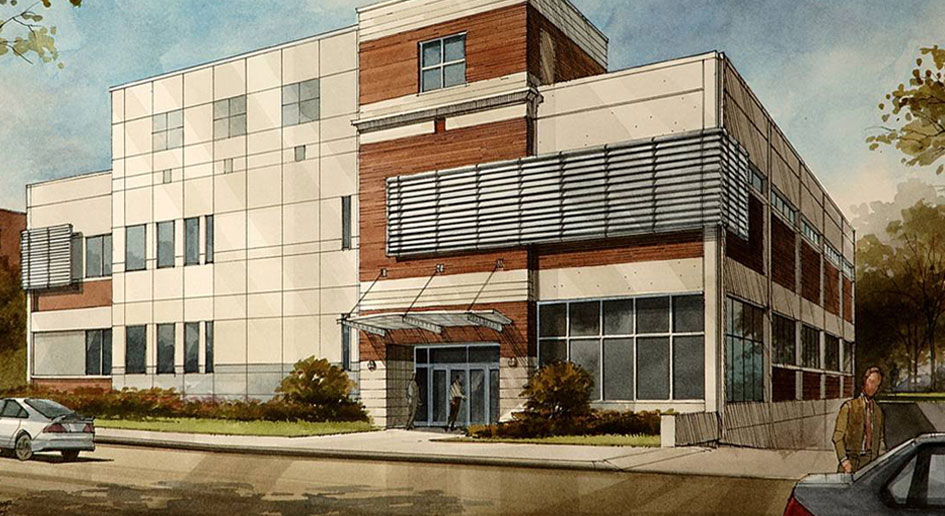 Set in the historic Allentown District of Buffalo, the former FDA Administration Building on Delaware Avenue was extensively renovated into a state of the art clinical pharmacology unit now known as The Buffalo Clinical Research Center. Working hand-in-hand with the Buffalo Preservation Board, Resetarits' goal, set forth by the owner, was to redesign the existing building's industrial looking facade to better fit the surrounding historic structures.
The reconstruction included updating the concrete reinforced structure with new glazing systems, metal panels, solar awnings as well as masonry restoration. On the interior, the new layout and configuration required a total "gutting" of the existing structure. There is an underground parking facility which required mechanical ventilation to meet building code requirements.
The first floor provides public access and houses the pharmacology offices as well as the reception/intake area. The upper levels are dedicated to medical research spaces, which include inpatient studies. Clinical residential suites are comprised of male and female facilities including lounge areas, nurse's stations, testing facilities and overnight accommodations.
Resetarits Construction Corporation
1500 Union Road, Suite 100
West Seneca, New York 14224

EXPERIENCE
Our staff has experience working on some of the area's highest profile construction projects. Your project will be managed and constructed by some of the areas most experienced, skilled, and qualified construction professionals.

VALUE
We strive to reduce our clients' costs while providing the highest quality of service and construction. Implementing efficient design and construction methods while focusing on quality craftsmanship and economical solutions ensures we are able to provide a high value for our clients.

SERVICE
Our goal is to make every client a future reference, and to treat every client as if they were our only client. We commit to providing clients with construction services that will facilitate the success of their business.

RELATIONSHIPS
We have established strong relationships with many of our clients, providing them with construction services for a variety of projects over time. These lasting relationships are a testament to our experience, value, and service.